Happy Sunday friends! I wrote this post Friday afternoon and scheduled it to post hours ago...guess that didn't happen. Oops! This is my first link-up for Sunday Social with Neely and Ashley. Hope you enjoy!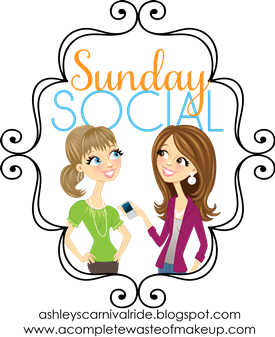 1. What is your favorite Fall activity?
I absolutely love to pick pumpkins for carving & decoration! But I definitely don't eat the pumpkin seeds. And I adore watching the leaves change into beautiful colors.
2. Do you follow a football team? If so which one and why?
I follow TWO football teams. The Aggies, because I am an Aggie and I will always bleed maroon and be a member of the 12th Man. And The Dallas Cowboys cause I'm a Texas gal :)
3. What is something fun about Fall in your area?
There is the Texas Reds Steak & Grape Festival every October in Bryan, and the food and wine never disappoint! And of course with Fall comes Halloween, and all the slutty costumes....yay.
4. Fav Fall outfit staples?
Skinny jeans, my NEW boots from Alloy, and drapey jersey-knit cardigan. But Texas doesn't exactly have "fall" weather, it's more like steaming hot to chilly--there's no in between for fall. I am so excited to wear my new cardi because I bought it for $24 (originally $69) and it fits perfectly and is SUPER LONG. BEST THING EVER FOR A TALL GIRL!
5. Thing you are looking forward to most about this coming Fall season?
Aggie Football, even though we are now in the SEC and we will get our asses handed to us nearly every game. And this is my first time to NOT be in school, and it's a really weird feeling. Not to mention the wonders of Starbucks and the delicious drinks!
6. Favorite Fall holiday? Traditions?
Definitely Thanksgiving. My mom's side of the family always gets together in Houston and we always have a blast! Recently, Andrew & I have traveled to Houston to spend time with our families for lunch, then ride with Andrew's fam to visit his family in Austin for dinner. The other tradition I hold close to my heart is the Texas A&M vs Texas football game. Last November, a 117-year tradition of playing on Thanksgiving Day ended. ESPN stated it is "one of the best rivalries in college football history". I know it's only football, and I'm sure there are many people out there who don't care (especially Longhorns), but it was and always will be a piece of Texas History.
Now go link-up with Neely and Ashley!