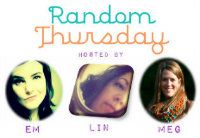 So yesterday I failed at blogging. I had a new post page open and ready to go, and I never posted ANYTHING. Oops. So today I was totally gonna link up today with Linny for Random Thursday, but I totally don't have time for
that shit
much TV and if there was something bad on I just wouldn't watch it. So there.
So instead I'm posting this super cute animated short from Disney that I just discovered today. Apparently it was shown before Wreck-It Ralph (ya know, there's always some short thing at the beginning) but I haven't seen that movie. Plus this is like the cutest thing ever. Cue stupid girl laugh.


Okay, enough of that.
Enjoy!
Oh, and it's called Paperman


BTW, this totally still counts as a link-up! Right??