So one of my closest friends, Corie, is getting married this summer, and months ago she asked me to be a bridesmaid. Of course I said yes, and I couldn't be happier for her & her soon to be hubs! Cause that's what people usually do after they graduate from college...get married! I'm just so thankful that she wants me by her side on her special day!
We met each other in middle school--ONLY because our sisters were best friends. She's a year younger than I am so I never really saw her except at school. Fast forward 4-5 years, my sister fell out of touch with her best friend because they moved to another school. Then one day at a new church during Sunday school my sister bumps in to her best friend, and her family just so happens to attend that church. Corie and a few other girls (myself included) became super close, only to be slapped in the face by one of our "friends" years later. It was awful, but Corie and I have managed to stay friends all these years! Ya know, like we may not talk for weeks at a time, but when we do it's like nothing changed in that time span. Long story short, I need a bridesmaid dress--from David's Bridal. I already have one dress from that store and I like it, but if I plan to wear it again I need to change things up!
I'm planning to shop later this week, but I gotta save up first....$$$
Here's my top picks!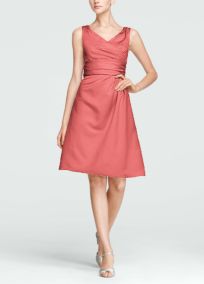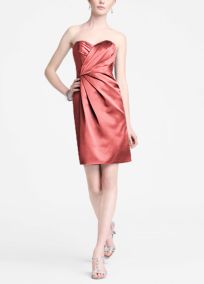 Top Left is the dress I currently own in Apple (red)
Top Right is my favorite of all four
Bottom Left is EHH, but I like it.
Bottom Right is va-va-voom! I don't know if I can pull off that kind of strapless dress--I gotta have some support for the girls!
Additionally, there's gonna be a sash for me to wear (it's champagne and you can see what it looks like
here
).
Let me know what you think!!