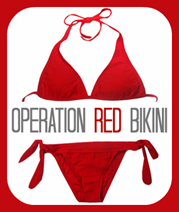 Okay y'all, I'm finally joining up with all these fabulous ladies for Operation Red Bikini. It's all thanks to the fabulous
Kassie
and
Leigh Ann
for starting this thing! What is ORB? Check out Kassie's post
here
! Basically, I'm following through with one of my New Year's Resolutions, and that is to lose 50 pounds by this time next year. I know it sounds like a lot--but 50 pounds would put me back to my weight from high school. Not only do I want to lose the extra weight, but I also want to get toned up!
Anyways, I found out about ORB about a week and a half ago from another blogger. I thought "what an awesome idea!!!" and then I realized that there was no way that I could meet any type of goal by May 31st. I work 2 jobs, one part time & one full time---so I work 13 hours a day, and I have Fridays off until the evening. I told myself that I didn't have time to do anything, let alone make it to they gym every day. Then I realized that I was just making excuses. So I'm gonna stick to my guns and get down that weight!
I've had people tell me that I'm not even overweight because I'm so tall, but when I look at others (my boyfriend included) I realize that I need to make a change. I'm only about 20 pounds lighter than my boyfriend--and that is no bueno! If I can at least get down to 200 by May 31st, I will be ecstatic. Additionally, I want to look good in the bikini I just recently bought :)
Before I forget, I wanted to show you the pictures from my workout today! Before Christmas, I was at 232, so I think I've done quite well for not having gone to the gym for over a month!
So let Operation Red Bikini begin!! Happy Friday!