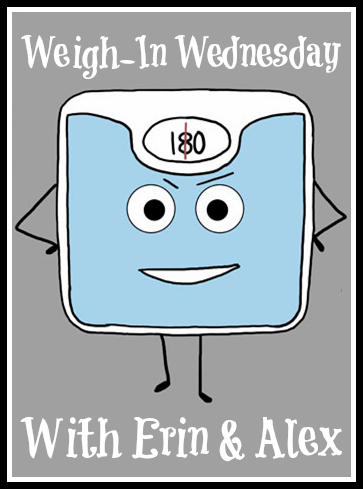 Say what? We are already halfway through another week?! Woohoooo! Nothing out of the ordinary this week, other than stuffing my face at the wedding on Saturday (see Monday's post). But yesterday I was hungry ALL DAY LONG. It was ridiculous. I didn't let myself snack all day long, and I managed to keep under my calories for the day. So far I'm doing okay today, but I can tell I'm already hearing a rumbly in my tumbly! It's gonna be a long day.
Last night after my workout, I told myself that I didn't really want to step on the scale. I weighed Monday night at was at 238 exactly. And at the last second I got on. I'm now at 240. That's a 4 pound gain in like a month....what the heck is going on??? I'm going to keep telling myself that I am building muscle and any day now I'll start losing fat, but I'm definitely a little discouraged. Plus, I'm not going to the gym tonight because I feel like I got hit by a damn freight train--I can't breathe out of my nose and my head is stopped up. And I am sneezing a lot. Like every 5 minutes sneezing. It is CRAZY.
In other news, I signed up for the DietBet posted on
Erin's
blog today! And I gotta admit, I'm pretty freakin' excited. And since I haven't posted any gym photos recently, it's appropriate to bombard all of you with several photos. Enjoy!
Recap from last Wednesday! See what I mean about my weight being all over?
Burned 615 calories in an hour!
After burning those calories
Last night on the elliptical
Monday night's treadmill walk
Perhaps I'll get back to the gym Thursday night if I'm feeling better and can breathe through my nose. The last thing I need is to have an asthma attack while at the gym and get sent to the hospital...yikes. And in case you haven't noticed--I HATE wearing sleeves when I exercise, and I also can't wear anything but shorts. Don't ask me why, it just bugs me!