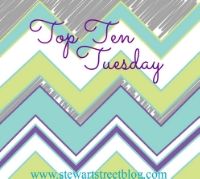 Joining Trista for today's top ten
DAILY MUST-HAVES
1. Make-up.
1. Clinique Superbalanced Makeup in Alabaster
2. Clinique Blended Face Powder & Brush
3. MAC Powder Blush--I can't remember the color!
4. Maybelline Line Stylist in Onyx
5. Covergirl Falsies Mascara (sometimes I use the orange Lash Blast instead)
2. My iPhone
I think I would die without it--my phone is my lifeline to friends & family
3. A good book
Currently reading: The Weird Sisters by Eleanor Brown
[add me on Goodreads!]
4. Water
I drink at least 80 ounces of water a day, which equates to 10 cups a day. How?? I pee all the time.
5. Headphones & Music
I almost always listen to music at work, and I gotta have headphones and good jams to work out!
6. Hair Straightener
Y'all, my hair is the thickest around. It has always been thick, and I don't forsee it thinning down anytime soon. But I would rather have thick hair than thin hair any day! I love my Chi, but I've recently been using my sister's Babyliss, and it is truly amazing. I can straighten my hair in 10-15 minutes and it looks perfect all day. Warning--it has temperature settings and you can burn the shit out of your arm/hand/ear if you aren't careful. I usually put it on 375.
7. Sweets
I love anything sugary-and I mean ANYTHING. Ice cream, cake, cookies, candy, this list can go on forever.....
8. an Umbrella
I keep an umbrella in my purse because you truly never know with Texas weather when it could possibly start raining. I've been drenched enough times on campus between classes that it became a habit. And I also keep one in my car too.
9. At least one extra ponytail holder
One day in high school, I managed to break SIX hair ties while getting ready for school. There is usually one on my wrist and one in my pocket. Be prepared!
10. Blogger
I get my daily dose of posting from all different blogs. I think I may have become addicted. But it is definitely better than intermittently posting once or twice a week about absolutely nothing. Hah!