Tomorrow is Friday, yes! But I have to be at work at 7am, yuck. Oh well. Linking up with Katie & Lex today!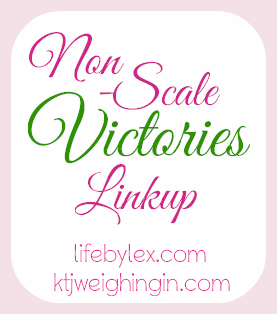 So Tuesday morning I had a coworker ask me if I was pregnant. I'm definitely not. Talk about awkward. And now all I can think about is how I sacrifice sleep to go to the gym instead every single night but I end up looking pregnant...what the hell...why do I even bother going to the gym then?
*Side note: stupid kids in high school told me I looked preggo but I was able to shrug it off because they were asses, but a coworker is totes different*

There's a part of me that wants to give up & just let the pounds add on, but I know I would be so unhappy & unhealthy that I would regret it. I feel so defeated. I didn't want to go to the gym last night or the night before, but I did anyways. It felt good--until I stepped on the scale--and saw a gain of 3 pounds. Even more defeating. Not to mention I was the only female at the gym the other night. That was weird. Really weird. But it didn't stop me from getting my workout on.
I do know that I'm not giving up that easy, regardless of how much the words hurt and how awful I feel. And that scale can go screw itself, at least for the next several weeks. Victories! #winning