Time for another round of NSV's cause it's THURSDAY!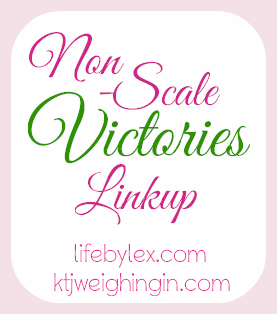 I have

3 victories

to share with y'all this week! Yay!
#1
I haven't been to the gym in roughly 2 weeks. I've just been super busy and I've been going out of town every weekend for the last several weekends. My body is just trying to keep up with everything!
And I don't feel guilty at all!
And that little voice inside my head saying "hey fatass, get motivated and go work out!" isn't around, so I don't feel bad for not going to the gym.
#2
I haven't been logging my shit on MFP. [add me! Username: tall_natalie]
Obviously I've been all over the place (Nebraska, Houston, and Oklahoma, and Baton Rouge then Galveston coming up), and sporadically logging isn't good enough. And I'm okay with that!
#3
I didn't pig out on the cookie cake that my sister bought for me on Monday to celebrate my birthday. As of last night, the cake was all gone. I had 2 pieces--one Monday night and another last night. Talk about self control!
What are some of your victories for the week??
P.S. Megan and I are leaving for Baton Rouge this afternoon as soon as I get off work. Yay college graduations and familia! But that means there won't be an update tomorrow. Womp womp.