This linkup came at the perfect time since my birthday was yesterday!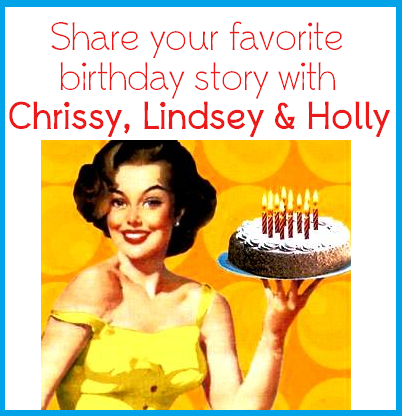 So first I'll share my most memorable birthday cause I know all of you want to hear my story!
My 16th birthday. Yes. Legal to drive. I had already done Driver's Ed and had my permit for months, so I was ready to go to the DMV and get my license that very day. And then the week before my birthday my mom announced we were going to travel to Louisiana for my cousin's high school graduation. Which meant that I wasn't gonna go to the DMV and I wasn't going to celebrate with my friends like I had wanted. And to make things worse, I had several people tease me that I was going to have a Sour Sixteen instead of a Sweet Sixteen because my birthday happened to fall on Friday the 13th that year.
But I was excited to see my family!
I sulked around all weekend long because I felt like everyone's attention was on the graduate instead of on me. I mean, you only turn 16 once! Then again, graduating from high school is big too. And, all the people who came over for the graduation party had no clue that I was supposed to be celebrating my birthday. It was awful.
And then Saturday afternoon, after all the partygoers had left, we FINALLY celebrated my birthday. My aunt had bought an exquisite cake--it really was gorgeous--and it may have been the best cake I've ever had. And it totally made up for the fact that everyone had neglected me and that I couldn't get my license on the day I turned 16. And I'm happy that I could share my birthday with my family & celebrate a graduation!
*Side vent: spring graduations almost always fall on my birthday. Last year when I graduated, my birthday was the next day & it also happened to be Mother's Day too.
_______________________________________________________________________
So last night I went out for my 24th birthday!
Yes, I'm a princess with a pink feather boa.
Several people were there to celebrate with me, Mary & Richard, Megan, Andrew, and a few friends! We went to Cheddar's for dinner and I had
a lot
to drink. And the drinks were, and I quote, "
strong as fuck!
"
My sister even bought me a cookie cake!
This is the 3rd year in a row that I've had cookie cake for my birthday. That's some good shit.
I fail at blowing out candles. There were only 10 candles on the cake and I blew out maybe half of them. And I forgot to make a wish. We'll just say that I didn't want to spit on the cake.
Now, I know you're dying to know what all I got!
My sister gave me the Naked palette! So excited!
Andrew bought Season 2 of Dexter for me!
My mommy mailed me some new Sperry's! The Sperry's I have now (I'm wearing them today) are my birthday gift from 3 years ago. They've lasted a looong time but it's time for new!
I got a few other awesome gifts, and some of the sweetest cards. Though sometimes it doesn't actually feel like my birthday was yesterday and that I'm 24 instead of 23 and I had to renew my license this year. And I'm newly engaged. Kinda weird but cool.
And huge thank you to everyone who wished me a happy birthday! It really was great :)